Peter Clapham Sheppard
1882 – 1965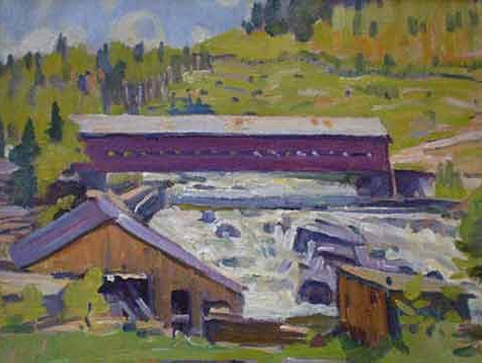 Covered Bridge
Oil on wood panel
10 1/2 x 13 1/2 inches, 26.6 x 34.2 cm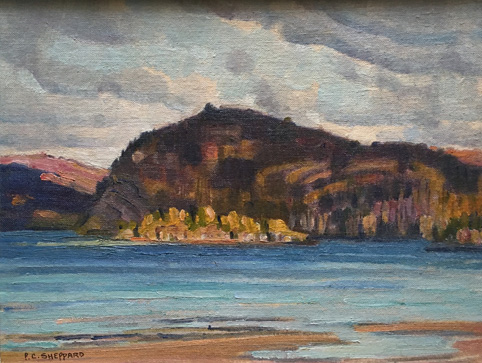 Lac Papineau
Oil on wood panel
10 1/2 x 13 1/2 inches, 26.6 x 34.2 cm
Peter Clapham Sheppard ( A.R.C.A., OSA ), a contemporary of the group of seven trained at the Central Ontario School of Art and Design and the Ontario College of Art under George Reid, John William Beatty and William Cruickshank. Sheppard was elected a member of the Ontario Society of Artists in 1918 and an associate of the Royal Canadian Academy in 1929.
Sheppard exhibited internationally, at the British Empire Exhibition at Wembley in 1924 – 1925, L'Exposition d'Art Canadien in Paris in 1927 and at the World's Fair in New York in 1939. Sheppard introduced the world to Canadian modernism and the urban and industrial images of the country.
A post-Impressionist landscape artist as well as an urban figurative painter, Sheppard used subtle colours and bold broad brushstrokes in recording the changing urban character of cities such as Montreal, Toronto and New York at the turn of the century. Sheppard captured the everyday mundane activities of the street, the fairs, ports and markets with delicacy and humanity.
Collections:
National Gallery of Canada
Art Gallery of Ontario
Canadian War Museum
Specializing in fine 19th and 20th Century
Canadian and International Art
Specializing in fine 19th and 20th Century
Canadian and International Art