Philip Henry Surrey
1910 – 1990.
CM, LL.D, RCA, FCA, CAS, CSGA, EGP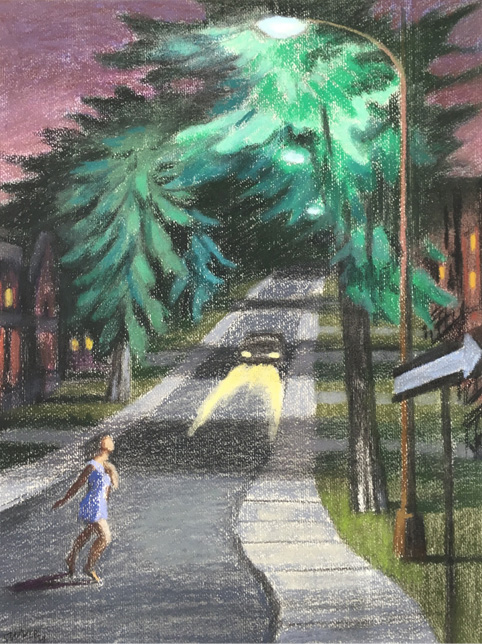 Grosvenor Avenue
pastel on paper
16 x 12 inches, 40.6 x 30.4 cm
Philip Henry Surrey was born in Calgary, Alberta in 1910 and died in Montreal, Quebec in 1990. A multidisciplinary artist using a variety of mediums, Surrey is known for his paintings, printmaking and commercial artwork.
Surrey's art education includes classes with Alexander Musgrove in Winnipeg (c. 1923); night school at the Winnipeg School of Art, Manitoba (1927 – 1928) under Lionel LeMoine Fitzgerald and George Overton; the Vancouver School of Art, B.C. (1931 – 1936) under J.W.G. MacDonald and Frederick Varley; and the Art Students League of New York* (1936 – 1937) under Frank Vincent DuMond and Alexander Abels.
Surrey painted in a number of mediums, painting lakes, mountains and beaches in a realist and surrealistic style. He is best known for his figurative urban scenes of individual pedestrians and groups going about their everyday lives, often in the evening or late at night.
"Each individual is alone, cut off. Each wonders how others cope with life. A work of art is a particularly complex statement, valuable because packed with meaning…" and "Like icebergs, four-fifths of our personalities lie below the surface; of the fifth, that shows, only part can be expressed in conversation. The only effective outlet for all deeper feelings and thoughts is art." – Philip Surrey (c. 1949)*
He was a founding member of the Eastern Group of Painters (1938), the Contemporary Art Society (1939), and the Montreal Men's Press Club [now Montreal Press Club] (1948). He was a member of the Royal Canadian Academy of Arts, Federation of Canadian Artists, International Association of Plastic Arts, Canadian Society of Graphic Art, and the Print and Drawing Council of Canada.
Collections:
Museum London (Ontario)
Winnipeg Art Gallery (Manitoba)
Quebec Museum of Fine Arts (Quebec City)
Montreal Museum of Fine Arts
Montreal Museum of Contemporary Art
Art Gallery of Hamilton (Ontario)
Art Gallery of Greater Victoria (B.C.)
Joliette Art Museum (Quebec)
Beaverbrook Art Gallery (Fredericton, New Brunswick)
Owens Art Gallery (Sackville, N.B.)
Sherbrooke Museum of Fine Arts (Quebec)
Art Gallery of Nova Scotia (Halifax)
Vancouver Art Gallery (B.C.)
Art Gallery of Alberta (Edmonton)
Agnes Etherington Art Centre (Kingston, Ontario)
Art Gallery of Ontario (Toronto)
(Concordia University, Montreal)
Canadian War Museum (Ottawa)
Canadian Museum of Civilization (Gatineau, Quebec)
the National Gallery of Canada.
*credit: National Gallery of Canada, Artists page
Specializing in fine 19th and 20th Century
Canadian and International Art
Specializing in fine 19th and 20th Century
Canadian and International Art